New supercomputer will run on green energy in Iceland
The deal is signed by Veðurstofa Íslands' Vice-general secretary Hafdís Þóra Karlsdóttir (right) and DMI's director Marianne Thyrring (left).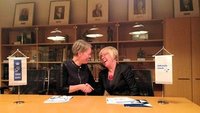 DMI's next High Perfomance Computing (HPC) facility will be located in Iceland.

Since the eighties DMI's HPC facilities have been installed at DMI's headquarters in Copenhagen, and have been replaced in a cycle of five to six years which provides the best balance between the continuous increase in calculation power, energy efficiency and cost.
There are many good reasons to move the location of the next generation HPC facility to Iceland, but most importantly the energy produced in Iceland is 100% CO2 neutral as generated by geothermic and hydroelectric power stations.

The supercomputer will be installed in cooperation with the Icelandic Met Office, Veðurstofa Íslands, and this will mark the onset of an increased collaboration between the two institutes also within research.
According to chief consultant in the DMI research and development department Jens Havskov Sørensen, the new computer will have about ten times higher computational power, which enables higher spatial and temporal resolution for numerical weather prediction and climate modelling.
In particular, it will be possible to run models with a better prediction of severe weather phenomena such as torrential rain, which this summer affected Copenhagen and large parts of Northern Jutland.
Besides numerical weather prediction, the HPC facility will be running most of DMI's many other operational model systems, and it will be used for research purposes, e.g. climate modelling.
The new supercomputer will be installed during autumn 2015 and will, if everything goes as planned, be in production from beginning of 2016.
By chiefconsultant Jens Havsskov Sørensen
With more computing power, DMI will enhance the forecasting of torrential rain, as here from Store Kongensgade in Copenhagen, 2nd July 2011, photot taken by Rainer R. Lippold.